Description
MY WATER BOTTLE is a 0.75l reusable glass bottle, held in a shockproof, natural hemp-based protective fabric cover, with a tearproof strap for carrying. The cap is made of sustainable FSC® bamboo and contains an "E-SMOG-PROTECTED" plate to additionally protect your water from harmful environmental radiation.

TECHNICAL DATA
All components of the bottle have been SGS tested.

Bottle
- Single-wall borosilicate glass
- Capacity: 750ml
- Size: approx. 7 x 27.5 cm
- Weight: approx. 470 g

Bottle cap
- Cap (exterior): FSC® bamboo wood
- Cap (interior): Stainless steel with minimal plastic content
- "E-SMOG-PROTECTED" plate by memon®

Bottle packaging
- Cardboard eco-friendly tube pack
- Size: approx. 9.4 x 30.5 cm

Bottle cover
- approx. 4mm-thick protective cover;
- 70% hemp and 30% 100% post-consumer recycled polyester

More at
www.sanusplanet.com

Ideal for filling with ECAIA water, produced with either the ECAIA carafe or the ECAIA ionizer. Learn more at
https://sanuslife.com/eng/products/ecaia

You will find further information on MY WATER BOTTLE in PDF format under "DOCUMENTS."

---
Ich möchte diese Flasche auf meiner Arbeit nicht mehr missen.
12/11/2021, 20:17
User39667XXXX
---
26/02/2021, 09:26
User15153XXXX
---
05/12/2020, 21:23
User96259XXXX
---
Vom Design eine sehr schöne Trinkflasche. Trotz Glas ist sie relativ leicht. Der Deckel war überraschend schwer zum Rest. Das Tolle durch den E-Smog-Schutz ist, dass die negative Ladung des ECAIA-Wasser wirklich länger erhalten bleibt. Habe dies selbst getestet und durch mehrere Messungen bestätigt bekommen.
24/08/2020, 08:38
User19641XXXX
---
nicht nur schön, einfach genial!
27/04/2020, 15:20
User41136XXXX
---
Wunderbar ,mega tolle Flasche
24/04/2020, 20:01
User13878XXXX
---
19/04/2020, 17:37
User24028XXXX
---
01/04/2020, 22:43
User13826XXXX
---
Das Gesamtkonzept Stimp .
Tolles Projekt , tolle Initiativen!
01/04/2020, 18:03
User0012XXXX
---
01/04/2020, 11:16
User64669XXXX
---
Ich finde sie sehr schön, nützlich und vom Projekt einfach nur begeistert
01/04/2020, 08:49
User49382XXXX
---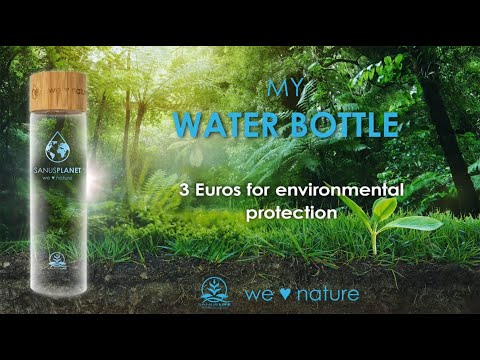 XCxnhArAom0
SANUSLIFE® INTERNATIONAL GmbH / s.r.l.
Straße / via Luigi Negrelli 13/C
39100 Bozen/Bolzano
Italy
+39 0471 97 99 98
www.sanuslife.com