Description
Description:
ESORI omega3 is a vegetable oil, consisting of essential, polyunsaturated omega-3 fatty acids which, although fulfilling a multitude of important functions in the human body, cannot be produced by the body due to the lack of the necessary enzyme.
Instructions for use:
It is recommended to take 3ml / day (corresponding to approx. 20 pump strokes) pure or mixed with food.
Content:
45ml / bottle
Further information on the product can be found in the respective product description available in the SANUS
STORE
.
To learn more...
---
09/11/2021, 08:54
User43841XXXX
---
19/03/2021, 10:46
User15036XXXX
---
06/03/2021, 20:57
User94389XXXX
---
26/02/2021, 09:26
User15153XXXX
---
05/12/2020, 21:25
User96259XXXX
---
14/06/2020, 17:02
User94389XXXX
---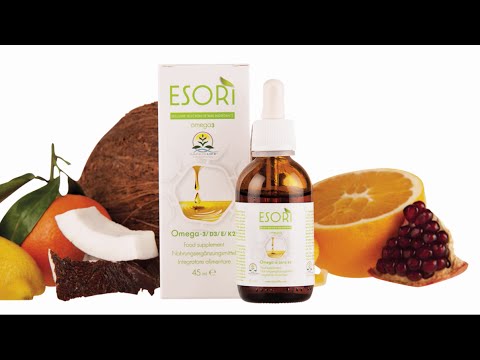 jkLfOpZ78_w
SANUSLIFE® INTERNATIONAL GmbH / s.r.l.
Straße / via Luigi Negrelli 13/C
39100 Bozen/Bolzano
Italy
+39 0471 97 99 98
www.sanuslife.com